NEXT COURSE DATES FOR 2022 – 2023
November 5th – 20th 2022, January 14th – 29th , February 11th – 26th or March 18th – 2nd April
Permaculture Design Course. Held at La Cañada, with accommodation or camping available
The PDC courses are held at lascaniadas.com
Learn new skills and realise new perspectives with a Permaculture Design Certificate Course!
HAVE A LOOK AT SOME GALLERIES OF OUR PERMACULTURE COURSES
HERE, HERE and HERE
Doing a PDC is quite an experience, a 'high speed download' as we could say in modern terms. This is an official Permaculture Design Course which gives you the full opportunity to start your path to Sustainability. The course is taught by local farmer Ras John Cresswell and with special guest teachers. It includes 72 hours of study time, mostly based in the classroom, in combination with a selection of practical workshops and visits to other permaculture projects.
Once this intense course has been completed you will receive a PDC certificate (from the Permaculture Association UK) and you will be able to put these ideas into practice, prove them through trial and error, and hopefully reach success.
After at least a few years of practicing Permaculture in your own way, you can then apply for your Diploma in Permaculture, do more advanced courses, or learn how to become a Consultant, or even a Teacher.
Many professions are compatible with permaculture principles and design techniques, so you could inspire change, save energy and share abundance through whatever it is that you do.
There will be one free day in the middle of the course which you can experience the vibrant area where the course is held. A visit to the Alhambra, a walk to the Buddhist temple or a trip to the Sea, only half an hour away for example. Also, to help with the overwhelming amount of information you'll be taking in, we provide optional extras such as recommendations of local massages, therapies or yoga classes.
Hopefully through one of our courses you'll be able to see Permaculture becoming alive and breathing, and it will inspire you to create your own such projects, now and in the future. By directly experiencing the development and support of eco-systems that can work hand in hand with human life, one can begin to understand the 'research and development' that is needed as part of the process. We can realise the great wisdom written within the designs of Nature and be inspired also by the ancient traditions of living in unity with our home and planet.
In the last few days of the course the participants work together in groups to create a mulit-layered design for a piece of land. We will visit a local farm as an example to use for the design.
Come and truly EXPERIENCE Permaculture. Smell the odours! Feel the textures! Taste the flavours! See the sights and inspire your inspiration! Documentaries, books and highly theoretical courses do not quite give permaculture the justice it deserves.
16 Day Permaculture design certificate course with camping and accommodation options.
–A selection of shared or private accommodation
– Or students camp with their own equipment
– Access to internet and electricity
– 1 day off
– 3 visits to permaculture projects as well as hands-on workshops in the gardens


What to bring?
– tent (if camping)
– sleeping bag (if camping)
– sleeping mat (if camping)
– a torch/lantern
– a notebook, pen, pencil
– a good pair of shoes for different terrain
– a weatherproof jacket
– charged equipment, camera, laptop, etc.
– eco products soap, shampoo, conditioner, toothpaste, etc.
– warm clothes
– a towel
– an empty USB stick storage
Guest teachers:
– Cathy Whitefield: has had great experience facilitating and teaching Permaculture courses for many years in the UK, with her partner and famous U.K. permaculture godfather, Patrick Whitefield, one of Ras John Cresswells Mentors. Cathy will be responsible for teaching 'People care' , ' Community problem solving' , 'Non-violent communication', 'Listening to the land' and she will also be helping with facilitation and support for the course itself.
– Rosanna Cox talking about 'Sacred economics and permaculture finance'.
– Inbal Rosenblat making workshops on Seed-bombs, and guerilla gardening.
– Andy Freeman talking about 'Animals role in Permaculture'.
– Carol Freeman from seeed.es making workshops about seed-saving.
–Sophie Paulding doing a herb workshop, finding , identifying and preparing wild herbs.
Also, each course includes different guest teachers, so its very possible others will be added before the course starts.
Examples of visits to Local projects:
Field trip 1, SuperNatural
The home of Ras John Cresswell, we have a tour on the permaculture gardens and the systems that have been set up.
Field trip 2, Cortijo Vera.
A truly remarkable and rebelious family living in a permaculture style for over twenty years on this farm. In an amazing setting deep in the valley, next to the river and amongst wild herb-land. They have learnt a lot about old techniques from the local farmers of yester-year and would like to share what they know.
Field trip 3, Regenerative Agroforestry Systems research field, our local food forest project.

for more info on Ras John Cresswell please go to…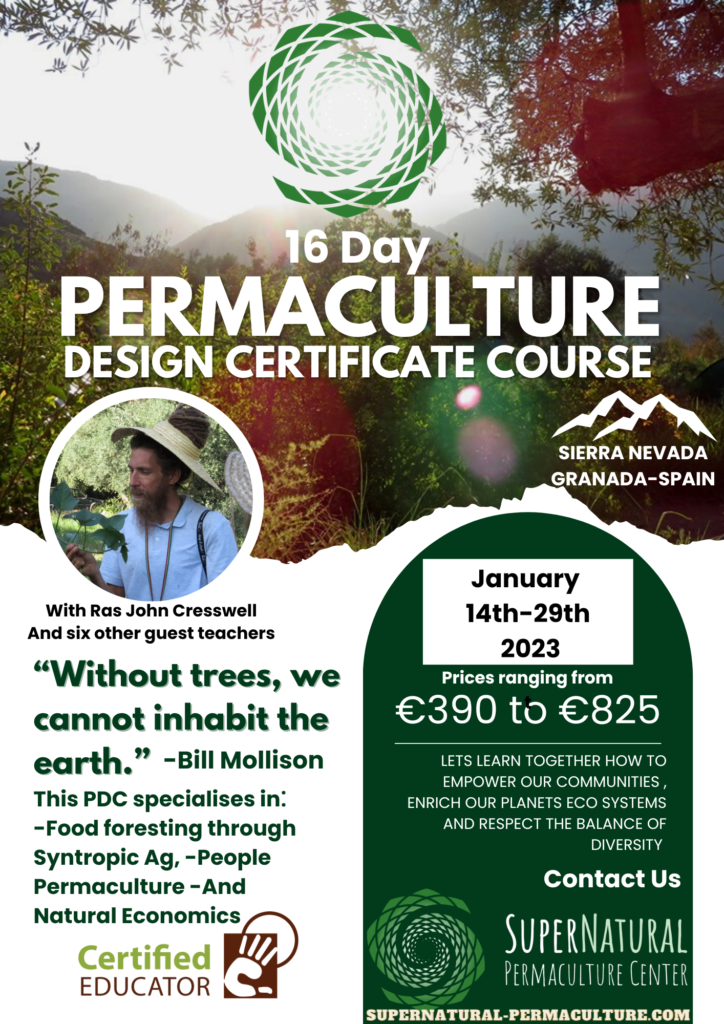 Course Fees – How much does it cost?
For more information please click here